Nano aluminum composite panel
Product Detail
Product Structure
Application
Feature
Color Options
Product Tags
Specification of Nano aluminum composite panel
| | |
| --- | --- |
| Width: | Standard 1220mm&1250mm, options 900mm, 1500mm, 2000mm, |
| Length: | Standard 2440mm,options: 3050mm, 5000mm, 5800mm, Up to 11500mm |
| Panel thickness: | 3mm&4mm,options: 1mm, 2mm, 5mm, 6mm,7mm, 8mm,etc |
| Alu coil thickness: | 0.5mm, 0.45mm, 0.4mm, 0.35mm, 0.3mm, 0.25mm, 0.21mm,0.10mm,etc |
| Core material: | Normal core/ Unbreakable Core/Recycle Core / Fireproof Core |
| Coating: | PE, PVDF, FEVE, Nano, Epoxy coating,etc |
| Color: | Solid, metallic, high gloss, digital printing, mirror,stone look,wood look,brushed,etc |
| Weight: | 5-6.5kg/Square meters, based on 4mm thickness |
| Function: | Fireproof, Mould Proof, self-cleaning, Anti-Static, Antibacterial,etc |
---
Previous:
PE aluminum composite panel
Next:
Aluminum coil
---
Consist of a strippable film, two aluminum sheets sandwiching the innoxious low density of polyethylene by macromolecular lamination films. For exterior decoration, PVDF coating is applied, while PE coating usually is applied for interior decoration
A LDPE (low-density polyethylene) core is attached in the middle of aluminum layers on both sides, which are with a coating. It is impact resistance and easy to maintain, thus it becomes one of the popular material for building facade, signboard and interior finishing.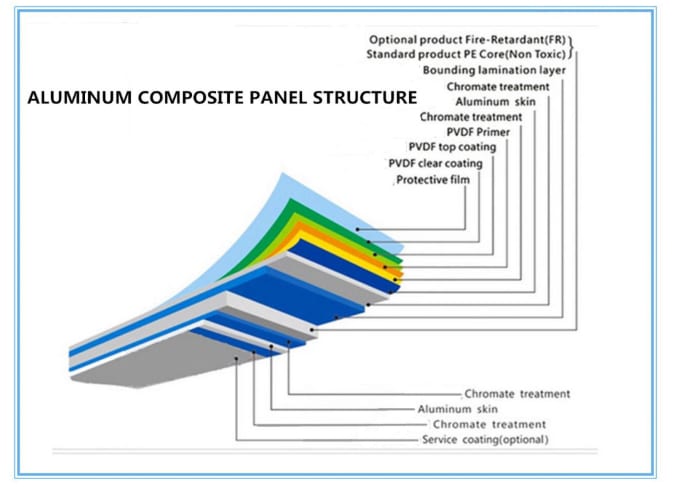 1) Constructional exterior curtain walls, Wall Panel are widely used in exhibition, stores, offices, banks, hotels, restaurants and apartments;
2) Decorative renovation for storey-added old buildings, facades, roofing;
3) Indoors decoration for interior walls, ceilings, bathrooms, kitchens, balconies and subway;
4) Advertisement board, display platforms, billboards and signboards;
5) Wallboard and ceilings for tunnels;
6) Raw materials in industrial purpose;
7) Material used for vehicle bodies, yachts and boat

It is a durable, resistant and light material.
It offers various color choices
It has an aesthetical and smooth structure.
High sound and heat insolation
It is 100% recyclable and environment-friendly.
It provides the best application with easy and convenient use.
High resistance against environmental conditions.
It provides the best results in applications.
Easy cleaning and maintenance